Are you passionate about Bolognese sauce and the famous tortellini?
Today we will make you experience the authentic soul of Emilia Romagna with its well-established culinary traditions. Paticularly, we will keep alive the connection with this beautiful Italian region through the format and dishes of a typical trattoria bolognese: a traditionally family owned, casual, rustic neighbourhood restaurant that serves fresh, unassuming and conventional local food.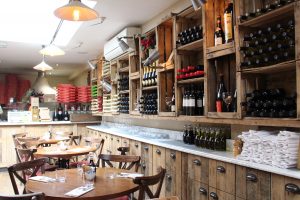 Cacciari's restaurants have been established with the aim of making customers familiar with the culinary experience provided by the typical trattoria bolognese. As such, these restaurants are based on 2 pillars: freshness and quality. Indeed, the products offered are freshly prepared every morning according to the old traditions from Bologna.
Additionally, most ingredients are directly imported from Emilia Romagna, while others (e.g. meat, fish, fruit and vegetables) are carefully selected from the best local markets in London.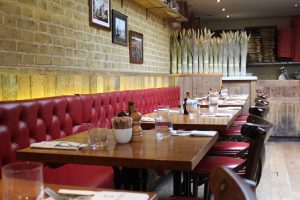 Are you ready for a thrilling journey through Emilia Romagna? Read on.
Cacciari's at Italian Restaurant Festival
During Italian Restaurant Festival, Cacciari's will surprise you with 2 menus: one is perfect for meat lovers, while the other will satisfy those who prefer fish. Both menus consist of 4 courses: starter, pasta dish, main course and dessert and each course comes with a glass of typical Italian wine to exalt its flavours.
Meat menu: £70
Starter
Emilian charcuterie: Pistcchio I.G.P. Mortadella, Parma ham seasoned 18 months, Piacentina coppa & Reggiano parmesan seasoned 36 months
Wine: Modena D.O.P. rosato spumante, sparkling rosè wine, flowrery, dry & harmonic
Pasta dish
Boscaiola Tortellini: Handmade Bolognese Tortellini filled with meat, served with champignons, peas & cooked ham from Modena in a cream sauce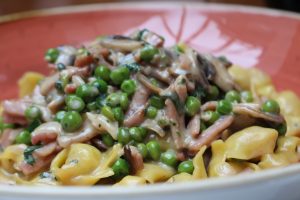 Wine: Sangiovese Riserva D.O.C., red tannic wine, with wild berries & violet flavour
Main
Grilled rib-eye tagliata with radicchio & Balsamic vinegar reduction: Sliced rib-eye with grilled radicchio, Vinegar from Modena, rock salt, fresh rosmary & Reggiano parmesan 36 months

Wine: Sangiovese Riserva D.O.C., red tannic wine, with wild berries & violet flavour
Dessert
Croccante Semifreddo in a chocolate sauce: Caramelized Mixed nuts with frozen cream & dark chocolate sauce

Wine: Lambrusco di Sorbara D.O.C.,Red sparkling wine, fresh & red ruits flavour
Fish menu: £75
Starter
Homemade wood-fired focaccia withSquacquerone cheese: A fresh & creamy cheese D.O.P. from Modena, mealted in a crispy focaccia, fresh rocket& cervia sea salt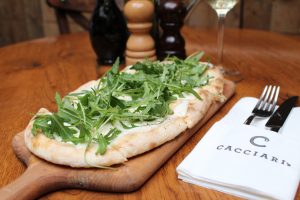 Wine: Trebbiano dei Colli d'Imola D.O.C., dry white wine, aromatic & pleasant
Pasta dish
Handmade Strozzapreti with King prawns, sundried tomato pesto & taggiasche olives: Twisted short fresh Pasta with Italian sundried tomato, Bolognese olives & fresh King prawns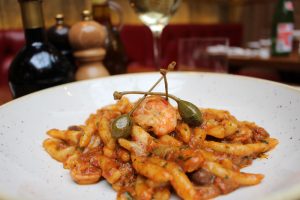 Wine: Pignoletto Colli Bolognese D.O.C.G., fresh white wine, delicate, fruity & aromatic
Main course
Fritto misto in a Bolognese recipe: Deep fried calamari, prawns, zucchini & carrots, served with homemade tartare sauce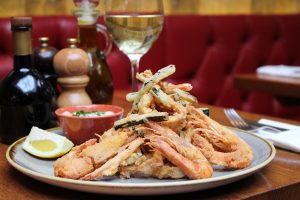 Wine: Pignoletto Colli Bolognese D.O.C.G., fresh white wine, delicate, fruity & aromatic
Dessert
Mascarpone mousse with amaretto biscuit and dark chocolate flakes: Mascarpone cheese flavoured with amaretto crumble & chocolate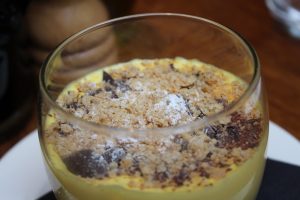 Wine: Lambrusco di Sorbara D.O.C.,Red sparkling wine, fresh & red ruits flavour
Did you know that….?
Affettati (Charcuterie): the most humble yet noblest Italian specialty
Affettati (also known as charcuterie) are one of Italy's most iconic foods and include a vast array of cured pork charcuterie. Affettati unite everyone: from gruff workman, pausing mid-morning to revive themselves with towering 'pane e prosciutto' (bread and ham) sandwiches, to chic urbanites, relaxing over an evening aperitivo accompanied by the same prosciutto elegantly wound around thin grissini breadsticks.
Affettati vary vastly from region to region, and each area has its own traditional specialty reflecting the local climate and culture.
Let's discover some typical Emilian affettati…
Mortadella (large Italian sausage): is synonymous with Bologna. This pink cold cut with its unmistakable aroma is called by the name of the town where it was born – centuries ago. Mortadella has indeed a long history. It appears that it was already known and thoroughly appreciated by the Romans: proof of this is an ancient stele on display inside Bologna's Museo Civico Archeologico depicting a butcher using a mortar, the tool employed to crush together the meat and spices to prepare mortadella.
Prosciutto Crudo di Parma (Cured ham): made primarily in the town of Langhirano near Parma in Emilia-Romagna. This is the most common type of prosciutto crudo, popular for its delicate nutty and slightly sweet flavour.
Culatello: A slightly more prestigious cousin to prosciutto crudo, culatello (the most famous from Zibello in Emilia-Romagna) is the cured ham made solely from the trimmed upper haunch, leaving it with more meat and less fat.
Salame (cured and dried sausage) Felino: produced in the area surrounding the town of the same name in Emilia-Romagna, is one of the most prestigious and historic of Italy's salami, documented as early as the 1100s. Made with only certain heirloom breeds, this flattened pork salame makes oblong slices and the coarse texture and seasoning only highlights the excellent quality of the meat.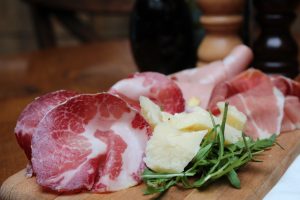 Strozzapreti: When the priest chockes on pasta
These are thin strips of pasta 4/5 cm long made with flour, water and salt. One of the legends created to explain the origin of the name goes back to the tradition of the women from Romagna preparing this type of pasta for the local priest, while the husbands, evidently a little bit more anticlerical, wished the priest would choke while he was stuffing himself with it. Graziano Pozzetto, an expert in tradition and cuisine from Romagna, suggests that the name's etimology can be taken back to "the good texture of the strozzapreti … which was used to calm the hunger, so well that even the priest (that in the popular imagination was pictured as heavy eater) would have chocked on them". Pozzetto gives one more interpretation of the name, linking it to that sharp and firm movement with which the azdora [the housewife in Romagna] 'chokes' the dough strips to make the strozzapreti: "… in that particular moment you would presume that the azdora would express such a rage (perhaps triggered by the misery and difficulties of her life) to be able to strangle a priest!".
https://www.italianrestaurantfestival.com/wp-content/uploads/2017/03/pasta-cover.jpg
1133
1700
Giuseppe Cianci
https://www.italianrestaurantfestival.com/wp-content/uploads/2016/12/LOGO_nuovoIRF_300px-300x236.png
Giuseppe Cianci
2017-03-13 12:40:16
2017-03-13 16:43:49
Cacciari's Restaurants: delights from Bologna, the City of Culture and Food