Fed up with standard restaurant menus?
Today we will explore some Sicilian dishes revisited with a modern light touch by Ritorno, an elegant, premium lounge bar and Italian kitchen in Chelsea.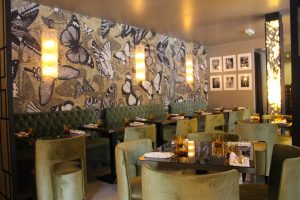 Ritorno, which aims to bring an authentic Italian aperitivo experience in London, offers over 40 small plates (cicchetti) created using the highest quality and freshest produce. Cicchetti, encompass a variety of classic dishes from across Italy. Some examples are: Tagliolini di Ragù e Polpettine di Fassona (Authentic homemade tagliolini with mini "Fassona" meatballs), Guancia di Manzo con Polenta Morbida (Braised beef cheek with polenta) and Vitello Tonnato (Veal round steak in tuna sauce).
However, on the occasion of Italian Restaurant Festival, Ritorno proposes a Sicilian themed menu with some typical Sicilian Cicchetti such as: Polipetti murati con caponata siciliana (Grilled octopus with Sicilian ratatouille) and Anelletti al forno con ragu e piselli (Oven-baked Anelletti pasta with beef ragout & peas).
Cicchetti are complemented by cocktails and fine wines to to make the art of aperitivo memorable.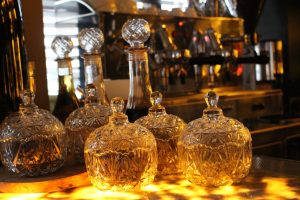 Let's discover these Sicilian delights.
Ritorno at Italian Restaurant Festival

During Italian Restaurant Festival, Ritorno will propose a menu made up of 3 courses and a glass of Italian wine. Each course has 2 versions: one is meat/fish based and the other is suitable for vegetarians (v).
Starter
Polipetti murati con caponata siciliana: Grilled octopus with Sicilian ratatouille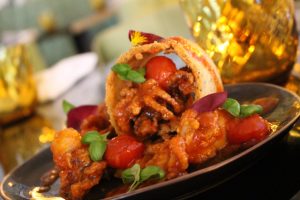 or
Parmigiana in crosta di pane (v): Parmigianino in homemade bread crust
Main
Anelletti al forno con ragu e piselli: Oven-baked Anelletti pasta with beef ragout & peas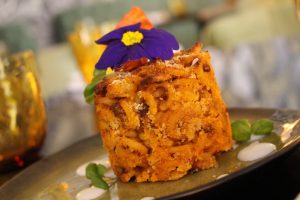 or
Busiate alla norma con ricotta salata (v): Pasta Norma style with salted ricotta
Dessert
Cannolo siciliano scomposto: Sicilian cannolo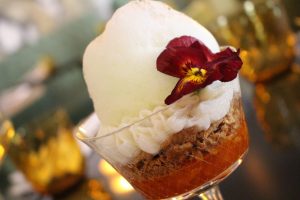 or
Tiramisu di amaretti e pistacchio di Bronte: Amaretti & bronte pistachio tiramisu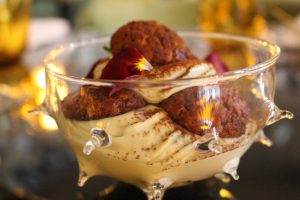 Wine: Feudo Montoni, Grillo, Sicily, Italy 2015
£35.00 per person

Did you know that…?
Pasta alla Norma: a music-mad dish
Pasta alla Norma originated from Catania (Sicily) and is dedicated -just as the name suggests- to the famous opera lirica 'La Norma', composed by Vincenzo Bellini in 1831, a renowned musician from Catania.
There are two different stories which explain the name of this dish.
According to the first, the name was given by a playwright, Nino Martoglio, who, after comparing the pasta to the famous opera lirica shouted: This is a Norma! He meant that the pasta was so tasty that it could deliver the same positive feelings as the Norma.
The second story is that, whilst writing this masterpiece, Vincenzo Bellini used to attend a restaurant and to order this pasta almost every day. Therefore, the restaurant's owner finally named the pasta 'Norma' as a tribute to the musician.
Anelletti al forno: The Sicilian Lord of Rings

Anelletti is a typical, ring-shaped pasta of Sicilian origin. Nowadays, it can easily be found among the regional specialities of large pasta manufacturers. This type of pasta is used almost exclusively for this traditional Sicilian dish, which can be served both as pasta course and main.
There are many variants of pasta al forno (baked pasta) according to the different parts and cities of Sicily. Depending on the area, anelletti may be replaced with maccheroni, rigatoni and other types of pasta, while the ingredients vary greatly: hard boiled eggs, mixed cold cuts and vegetable.
Pistachio from Bronte: the green gold of Sicily

A tasty delicacy enveloped in a light, bright green hue, the Bronte Pistachio is good on its own, or when used in recipes savory and sweet.
Whether fresh or dried, it is perhaps the most precious ingredient in Sicilian cuisine and symbolizes its town of origins, Bronte, a village the Province of Catania. Indeed, the pistachio is so important to Bronte's economy that it has long been graced with the nickname "green gold."
The pistachio actually has several names in Sicilian dialect, including scornabecco, spaccasassi and fastuca.
The pistachio plant can live between 200 and 300 years, and thrives above all in Bronte. While the nut's most ancient origins lie in ancient Persia, that grown in Bronte is distinguished by very unique characteristics – even in comparison to other Sicilian pistachios – and is thus known as pistacia vera.
Such may very well be attributed the fact that pistachios in Bronte are cultivated in volcanic soil, on the scorching terrain of Mount Etna and the Nebrodes. Here, the terroir seems to favor the resinous plant, from its thick foliage that necessitates little water, down to its ability to cling to the steepest and craggiest mountain slopes (thanks to its knotty branches and deep roots).
https://www.italianrestaurantfestival.com/wp-content/uploads/2017/03/anelletti.jpg
1133
1700
Giuseppe Cianci
https://www.italianrestaurantfestival.com/wp-content/uploads/2016/12/LOGO_nuovoIRF_300px-300x236.png
Giuseppe Cianci
2017-03-14 17:31:35
2017-03-15 14:47:08
Ritorno: The finest Sicilian Cicchetti in London