Still curious to explore more specialties from Sicily?
Try the authentic cuisine of Palermo, the bustling and breathtaking capital of Sicily.
Palermo is a special and unique city, know for the astonishing beauty of its landscape, architecture and for its marvelous artistic treasures, coming from different areas of the world.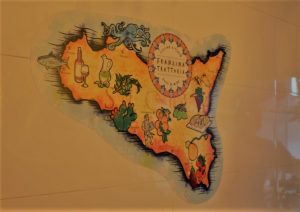 Franzina Trattoria is a Brixton Pop which aims to serve no-fuss wholesome dishes drawing upon the ancient tradition of family-run tavernas in Palermo. Just like a typical Taverna in Palermo, Franzina' s proposes quick lunch and take away options, hand-made fresh pasta and unique Sicilian delicatessen.
This converted shipping container was founded with the idea of delivering the authentic Palermitan cuisine.
In fact, when you enter this small restaurant you are surrounded by many "Pupi Sicilani", the traditional marionttes used as theatrical representation in the Sicilian puppet theatre.
These beautiful puppets are still considered a symbol of Sicilian folk culture.
They became popular in Sicily late in the Middle Ages, during the 15th century.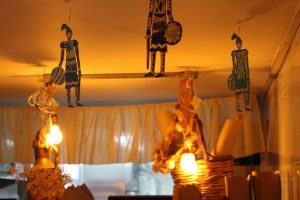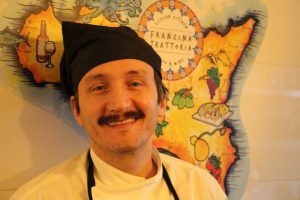 Franzina at Italian Restaurant Festival
During Italian Restaurant Festival you will be delighted to taste Franzina' s menu, including a choice of 3 courses: A starter, a main and a dessert.
Each course comes with a glass of authentic and fine Sicilian wine.
Let's find out more about this delicious menu!
Menu Price : £30.00 per person
Starters
"Schiticchio" : a sharing platter with different samples of canapés.
This mix platter includes:
Sfincione: Homemade pizza from Palermo with Caciocavallo cheese, anchovies, onions and tomato sauce.
Cazzilli e Panelle: Potato croquettes and chickpea fritters, served with lemon and smoked tomato sauce.
Polpetta di Melanzane: Flash fried aubergine balls with pine nuts and raisins.
Caponata and Olives: Cooked vegetable salad made from chopped fried eggplant and celery, seasoned with sweetened vinegar and capers, served with a sweet and sour sauce.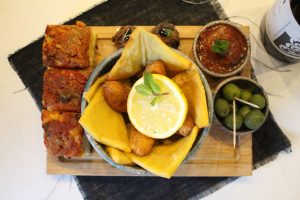 or
Arancina: Rice ball filled with traditional Sicilian-style Ragout (Bolognese sauce) or with mushrooms and Tuma cheese.
or
Polpo: Chargrilled fresh octopus, served with lemon and extra virgin olive oil.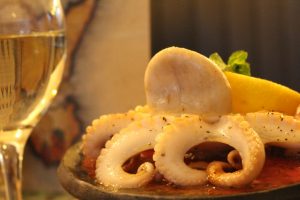 or
Involtino di carne alla Palermitana: Tuma cheese, pine nuts, bread crumb and raisins wrapped in loin pork skewer.
Mains
Tagliatelle: Fresh handmade pasta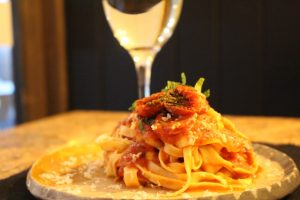 Tagliatelle Confit: Slow cooked confit tomato sauce, ricotta salata and mint.
or
Tagliatelle Evo: Olive oil, Pecorino cheese and pepper.
or
Tagliatella Ammuttunata: Stuffed baby aubergines smoked in garlic, mint tomato sauce.
or
Tagliatelle with Sicilian beef ragout
or
Tagliatelle with sarde: Tagliatelle with sardine fish
Desserts
Sfingette: Sicilian doughnuts with sugar and cinnamon, with Ricotta cheese and chocolate.
or
Warm dark chocolate soufflé with raspberry and lemon cream.
or
Cannolo Siciliano: A crispy Sicilian pastry served with ricotta cream and pistachio.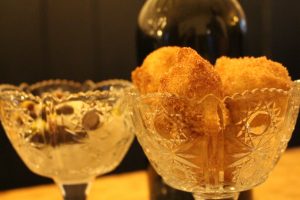 Wine pairing:
White Inzoilia (Bianco Inzoilia): A Sicilian wine made from native grapes Inzolia, fresh and fruity pale yellow color that has a pleasant aromatic and dry taste.
Grillo: A sicilian white wine which is crispy and savory.
Nero d'Avola (Black of Avola): has a ruby red color and intense fruity fragrance that shows bodied taste and remarkable personality.
Did you know that…?
Sfincione: The traditional pizza from Palermo
Sfincione is a thick Sicilian pizza, more similar to a focaccia, topped with tomatoes, onions, a few anchovies and perhaps grated Caciocavallo cheese and seasoned with a dash of oregano. Probably the name derives from the latin spongia, which means "sponge", or from the Arab sfang, meaning a sweet soft fritter.
When you walk along the streets of Palermo is very common to see a small vehicle (similar to a pick-up but on three wheels) that sells portions of sfincione with a recording voice sent out through a megaphone that says how good is this kind of pizza… And indeed it is delicious!
By tradition, sfincione is served on two Festivities' Eve: the night of the 7th of December, before the Immaculate Conception Day and on Christmas' Eve, the 24th of December but you can find it in bakeries and markets every day of the year.
Panelle e cazzilli: traditional street food from Palermo
Panelle are savoury fritters made with chick-peas flour and are mainly eaten in the streets, in a loaf wrapped in paper yarn waste. Cut into smaller shapes, they are part of the typical hot starters you could be served, generally with cazzilli, pan-fried, potato croquettes, also known as crocchè.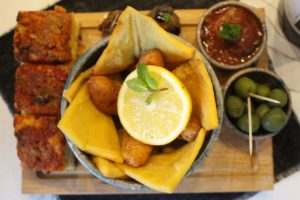 Caponata: a sublime blend of Mediterranean flavours
From the Spanish "caponada" the word "caponata" derives from "capone", name with which in some areas of Sicily it's called the "lampuga", a precious fish once eaten only by the aristocracy, seasoned with the bittersweet sauce typical of Caponata. In the past, people who couldn't afford this expensive fish, replaced it with the cheaper aubergines.
Sfingette (also known as sfinci or Sfingi)
Sfingette are fried pastry puffs, filled with ricotta-based cream similar to the one used for Cannoli and Cassata. It is important that the puffs are fried and not baked, because it'is the interaction with the boiling oil that makes them hollow. Unlike similar pastries in other parts of Europe, sfinci contain no butter or meat fat.
It is true that certain authors identify sfinci, cassata and cannoli with Arab cuisine as it existed in the medieval Sicily. There is not absolute certainty here, but it is beyond doubt that cane sugar was introduced by the Arabs, and without it these confections would not exist today. That the Sfinci may have existed – in some form – before the Arab period is implied by the former practice of serving sfinci topped with honey instead of filling them with cream.
Like Cassata, Sfinci are generally considered a winter dish, perhaps because in the past, winter and spring were the best seasons for sheep milk production. The best Sicilian ricotta cheese comes from sheep's milk, and that's what gives the ricotta cream produced in Sicily its distinctive flavour.
Cheers, Buonappetito! 
Sign up to our newsletter: http://www.italianrestaurantfestival.com/newsletter/ to be informed about our latest news. Remember that shortly you will be able to book online on our website!
https://www.italianrestaurantfestival.com/wp-content/uploads/2017/03/thumb_IMG_8580_1024.jpg
724
1086
Giuseppe Cianci
https://www.italianrestaurantfestival.com/wp-content/uploads/2016/12/LOGO_nuovoIRF_300px-300x236.png
Giuseppe Cianci
2017-03-08 13:39:05
2017-03-14 11:35:44
Franzina Trattoria: From Palermo to Brixton